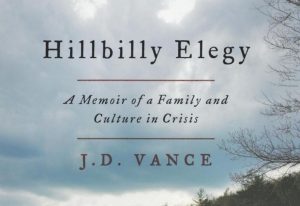 Join us online for a discussion of the best selling and controversial memoir (and Netflix movie) "Hillbilly Elegy" by J.D. Vance.
After small group discussions of the book, we will join the online Main Hall to hear a panel discussion on the issues surrounding Adverse Childhood Experiences featuring Shari Scher of COIPP; Amanda Holk, Community Activist; and Alison Bomba, Psy.D., an area psychologist specializing in therapy for children and young adults.
This is a conversation that you won't want to miss! Although this is an online event, space will be limited to provide an environment conducive to honest and intimate conversation.
Questions? Contact julie@juliegaver.com