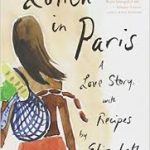 Have you always wanted to visit Paris? This year you can, virtually, with the Julie Gaver Discovery Book Club as we revisit one of my favorite books, "Lunch in Paris: A Love Story with Recipes" by Elizabeth Bard.
This event has an added bonus! After we discuss this fun and romantic memoir, our favorite chef Christine Van Bloem will lead us in preparing a few of her favorite French recipes from the comfort of our own kitchens.
The menu includes: Savory crepes, Hollandaise, Salad with Classic French Vinaigrette, and a Cheesecake Mousse for dessert! From the comfort of your own kitchen, we'll flip crepes, laugh, eat, and enjoy the company of other Parisian-at-heart women during this unique online event.
One week prior to the event, you will receive the Zoom link and a grocery list of ingredients you'll need to purchase for the cooking portion of the evening.
Pricing includes cost of class and facilitation.
Questions? Email julie@juliegaver.com