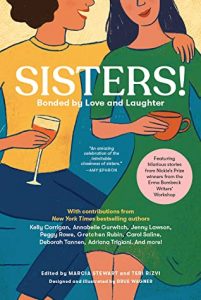 If ever we needed to read something light and FUN, it's now! Join Julie Gaver Discovery as we kick off the 2022 Book Club Season with an online discussion of the book "Sisters: Bonded by Love and Laughter."
This "Chicken Soup for the Soul"- style book features the works of many writers who share their hilarious, thought-provoking, and heart-felt stories about life with their sisters. Stories from members of the Erma Bombeck's Writers Group Workshop will leave you feeling happy and focused on all the good things.
Invite your sisters to join along, or friends who feel like sisters. There's room for everyone in this online platform. And come prepared to share one of YOUR favorite sista' stories.
Come as you are. Eat what you want. We'll be online and staying safe this Winter season.