21 Feb

Be Happy!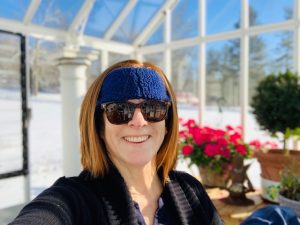 It's no secret that I have historically suffered from SAD (Seasonal Affective Disorder.) This garden girl experiences a total attitudinal avalanche once the holiday glow has faded and Winter announces its dreaded arrival. Every year the frigid temps, combined with too many overcast, dreary days, create a tailspin of emotion for someone who has always prided herself on being happy and upbeat.
In an earlier blog post I shared my 5 Personal Affirmations which I now recite on a daily basis. (After the calamity known as 2020 I knew I needed to do something different in order to change the psychological trajectory in my life!)
Affirmation No. 5 (and the final statement in the series) is "I am happy!"
Years ago when my sister Nancy married, I served as her attendant. I remember a beautiful message her pastor shared with us as we waited in the gathering room before the ceremony. He blessed the marriage she was about to enter into with her husband. He then spoke about happiness and urged her not to enter the marriage expecting her husband to be the source of her happiness.  (An unusual comment to make moments before someone is to be betrothed, don't you think?) He continued by describing that true happiness grows as we develop a closer relationship with God as well as when we look within to be accountable for our own happiness!
Letitia Elizabeth Landon writes, "We are ourselves our happiness."
Which brings me back to Winter.
Could it be that I have allowed something outside myself to hijack my outlook during the Winter months? (Duh!  That's an obvious rhetorical question!) Although I will readily admit that the weather can have physiological effects on the human body, I made a commitment in January to lean into being more in control of my post-holiday attitude. In other words….. I gave myself permission to be happy!
During one of the tours on my women's retreat to Ireland a few years ago, I asked the Irish tour guide if he knew the weather forecast for the following day. We were to be going to the Cliffs of Moher and I so badly wanted it to be sunny. With the charming wit of a true Irishman he replied, "Oh! We in Ireland don't fret much about the weather. We go on about our business anyway." 
So maybe I, too, could simply celebrate the day I had been given! "This is the day the Lord has made, let us rejoice and be glad in it!" 
That shift in perspective required that I spend every day in search of finding magic in the mundane.
The enchanting in the ordinary.
The allure in the everyday.
And when I made that commitment to myself (which I proclaim every day in my affirmations) I began noticing the smallest things that provide me with a sense of calm and happiness….. even when it's 20 degrees outside!
I will openly admit… I still have down days. But this season has been noticeably better because I have celebrated the minuscule details of life that make me happy and offer me temporary relief and distraction from the cold.  Here are a few…..
The sheen on the snow in the meadow when the sun shines on it. It looks like glass.
The colors reflecting off prisms on the greenhouse chandelier and the ones hanging from the trees.
The table of African Violets, Amaryllis, and Paper Whites by the window in my home office.
The sweet, tangy aroma of an orange when it's cut.
The way the house smells when soup is in the crockpot all day.
The sound of the tea kettle when the water begins to boil.
The warmth and softness of my flannel pajamas and sheets when the room temperature is brisk.
The stack of books by my bedside that I am too busy to read when Spring comes.
**************************
I leave you with this thought.  If you stopped depending on other people or weather conditions to make you happy, and instead took control of noticing all the beauty around you, would you be happier?
While you're thinking about that, click here for Happy and I dare you not to dance and feel better!