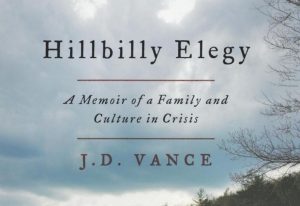 Julie Gaver Discovery and the Mustache Mesa Podcast Gals are pleased to co-sponsor a compelling dicussion on the NYT's best selling book "Hillbilly Elegy: A Memoir of a Family and Culture in Crisis."
In his memoir, J.D. Vance talks of the values, societal problems, and his personal family experiences growing up in Appalachia, USA.  A raw and often unsettling look at Adverse Childhood Experiences makes this a topic that is relevant to anyone who is concerned about the impact ACEs has on our families, our children, and our community.
The evening will include both small group discussion of the book as well as a panel discussion featuring some of Frederick's experts in ACEs and family and cultural dynamics.
Your ticket includes dinner, catered by Love & Dishes Catering, great networking, discussion, and learning opportunities. Cash bar is available.