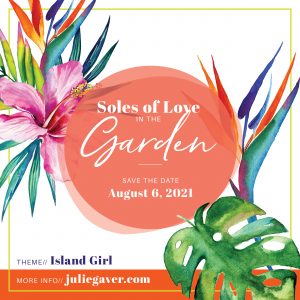 After a 2020-hiatus from our signature garden party event, we are back and ready to gather in the garden. Our highly anticipated event serves to  provide and distribute new shoes for local children in need.
The event is held at the home of our founder, Julie Gaver, at Meadow Branch Farm in Myersville, MD. Come be part of a relaxing evening of friendship, conversation, music, and community while meandering through the Gavers' serene country property. Guests are asked to donate all the new children's shoes their heart will allow which are distributed throughout Frederick and Washington Counties.
In recognition of the fact that 2020 prevented us from traveling in the manner we love most, the party theme for 2021 is "Island Girl." Join us as we visit the tropics (in Maryland, of course!). Think reggae music floating through the meadow. Think hibiscus, flowing dresses, and food worthy of island delight.
Attendees are invited to wear anything that makes them feel like the have their feet in the sand and a drink in their hand, complete with an umbrella!
A few tickets are still available. Grab one while they last!