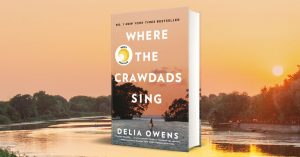 We're ending our 2019 Book Club Season with a well deserved break from all the Leadership, Inspiration, and Self Improvement books we've focused on this year.  Let's talk Fiction! It's the book everyone's been talking about all Summer. Join us for a little mystery and intrigue….. Where the Crawdads Sing by Delia Owens!
Canapes will be offering seasonal fare at their fun and funky hangout on Highland Street. It's Girls Night Out and you won't want to miss it!
Purchase your book at Curious Iguana, mention the Julie Gaver Discovery Book Club, and receive 20% discount.
*Prices include eats, treats, and drinks. Lively facilitation and discussion with fascinating women. Always!
Questions?  Contact Julie Gaver at julie@juliegaver.com