22 Jul

Meet our Mary Jane Level Sponsors: Women Who Rock!

There is a strong pattern of similarities that run through our impressive list of Mary Jane level Sponsors: They are risk takers. Many  are entrepreneurs. And they love and give back to the Frederick Community.
Meet Dr. Jennifer Bell of Foot & Ankle Specialists of the Mid-Atlantic. Dr. Bell's practice provides all aspects of podiatric care including diabetic foot care, sprains, strains, fractures, orthotics and reconstructive surgery, as well as ingrown and fungal tonenail treatments. They offer the convenience of three locations in Frederick, Mount Airy, and Urbana. During my father's recent foot surgery I witnessed first-hand the care and superior bedside manner Dr. Bell and her staff offer to her patients.
But her biggest news is that her "team" has grown by one! Or… a tiny little one, rather. Jen and her husband Casey, also a podiatrist, recently welcomed a son to their family. Rumor has it little "MoJo" already has his outfit and will be attending his first Soles of Love party. I'm sure he will be the main attraction with the ladies that night but so you know…. I get first dibs on smelling sweet baby head.
Dr. Bell has been a frequent supporter of Soles of Love and we look forward to seeing her, her mom, and her little man real soon.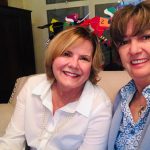 Tammie Workman and Chris Colville are sponsors of Soles of Love for the first time. Although they can't attend the event, I'm so very grateful for their support as evidenced by the sponsorship. I've known Chris for many years, having witnessed her admirable leadership at the Frederick YMCA. She's one of my "Rotary sisters" and an inspirational and impactful speaker.
For our recent book club event on Brene Brown's Dare to Lead, Chris was one of the first women I thought of to speak as part of our panel featuring brave leaders. I'm SO looking forward to getting to know Tammie beyond the realms of Facebook conversations in the coming year! Thanks so much Tammie and Chris! We'll miss you on the 2nd.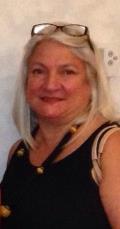 Pam Rollins's business, P'ZZAZZ,  has provided custom upholstery and home decor sewing services for over 20 years. Most recently, Pam began to feel that stirring inside that we entrepreneurs often get saying "it's time to shake things up!"  So she did. Offering a wide range of custom embroidery artistry produces that creative gleam in her eye. It's fun to brainstorm with her on new projects and  you'll, once again, see some of her artwork especially at the FIRST BLOOM event for girls on Sunday evening, August 4th.
I love watching how she has been successful at merging the embroidery into her upholstery work to create some very unique pieces. If you don't want your home to look like every other house you walk into, Pam's your gal! And the name itself sums it up:  P'ZZAZZ Custom Upsholstery & Fun Stuff.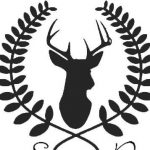 Now that you're totally in the mood to give your home a face-lift, our next Sponsor can take you to that next level. Stephanie Sullivan is one of Frederick's Joanna Gaines. With a tool belt full of talent, she recently merged many of her creative and artistic muses into a newly branded endeavor:  Deer Spring Designs. I'm posting her new logo instead of her photo because it's so fun, don't you think?
She provides custom painted furniture and kitchen cabinets, a full range of design services and consultations, and she loves a good repurposing of home decor. (my personal obsession!) Last weekend she hosted a tent sale at her home on Deer Spring Lane and rumor has it a certain redhead snagged one of her gorgeous vintage gold frames. shhhhh. But while you're looking into all the cool things she has, start following her on Facebook and you'll love her DIY videos as well.
She's also a realtor with Century 21 Redwood Realty so she can sell you the house and then help you make it YOU! I got to know Stephanie  personally this past April as she was one of the 17 women who went on our HGTV-Fixer Upper inspired travel adventure to Waco, TX. Although we didn't get to see Joanna, we did have Stephanie who came back inspired to make this dream of her's happen. Congrat's Stephanie!
Last, but certainly not least, another new business owner joins the Soles of Love Sponsor Team. Meet Anita Moore! Anita is a freelance copywriter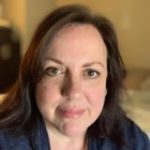 and website consultant and works with small to medium sized businesses on their website strategies, engagement practices, funnels, and customer communications.
With over 25 years of corporate, franchise, and consulting experience she too felt the tug to start her own business. Let's hear it for the new boss ladies of Frederick!  Anita can create compelling copy for emails, headlines, and assist you in creating social media content that people will actually read, along with blogs and podcasts. If you need help optimizing your message and engaging more clients, contact her at anitmoore@gmail.com  (note there is only one a)
I'm so impressed that although her business is so very new that she's still contemplating the perfect business name, she hopped on board to get involved with Soles. So make a point of hunting her down at the party next Friday night and wish her and our other entrepreneurs good luck. We are women who cheer each other on! Go Anita Moore!