25 Jun

Meet Stiletto Sponsor: JEM Garden Center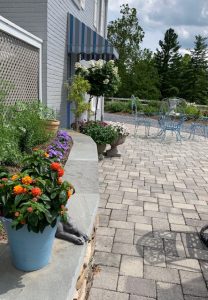 One of the things I love most about the artistic hardscape work completed here at our farm is that it created so many beautiful additional living spaces. Because what's the point of being outside if you can't live there comfortably?  I'm thrilled to again announce that JEM Garden Center is a STILETTO SPONSOR for this year's Soles of Love because they certainly know our farm property up close and personal.
Pat Ellis and his team are working in our meadow as I write this blog post. They've been busy expanding our livable green space today!  (And rumor has it some wildflowers may have been sown as well!) With an unlimited amount of creative energy and vision, Pat assists clients in making their dreams appear. And if one's personal vision is lacking, Pat's extensive experience in the field kicks into autodrive and he creates the picture for you.  Retaining walls, patios, new stone pavements…. his talents extend far beyond the simple landscaping jobs. (Although I will tell you that there is no way I could dig all my new flower beds up as quickly as his team can!)
At last year's Soles of Love event, Pat and his team went above and beyond the call of duty (and friendship) by spearheading the flow of traffic into the farm on one of the rainiest nights of the year. Yep! That was them– calm and collected, doing whatever it takes to get any job done.
Isn't that what we need from someone entrusted to helping us LIVE in our most beautiful space?  And the secret to their success?
Do. What. You. Love.
And they do.