24 Jul

Meet our In-Kind Sponsors: Part 1

This year's Soles of Love event highlights many new vendors to the team who are either generously donating their services or providing them at a significant discount. They deserve my gratitude and appreciation for adding a touch of extra magic to our event.  Please welcome….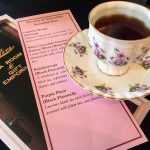 Dollies Tea Room in Clear Spring, MD.  I'm thrilled to have the ladies of Dollies Tea Room providing a selection of refreshing iced teas and infused water to keep us hydrated this year. They have attended our event for several years and I love the fact that they wear hats. What's a garden party without beautiful hats? You'll find their beautiful drink display by the lighted Ash tree as you cross over the bridge into the meadow. In the meantime, check out their website and plan a gathering with the ladies at their beautiful location.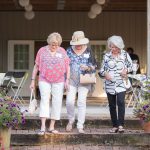 I love their mission which is  "To feed the soul as well as the body. To provide a place for quiet thought, gentle communication, sweet respite from the hectic everyday world; a place filled with a sense of hospitality and graciousness. A haven for the gathering of one's strength, the refreshing of one's body and spirit." Sounds like what we all need right now, don't you think?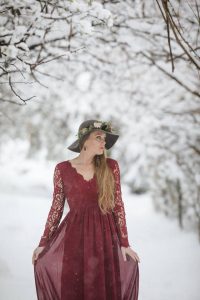 Westvirjeni is a small boutique style floral and event design business owned and operated by Shepherdstown, WV resident, Jeni Peterson.  She specializes in custom floral and event design for your home, business, event, or wedding.  From April through October she grows and forages her floral materials from her home garden sites and from nearby farms in the Eastern Panhandle of West Virginia.  In addition, she sources from local and international growers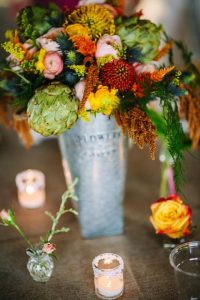 to ensure the highest quality and selection for her clients.  Her floral art and event design are characterized as whimsical, bohemian, asymmetrical, and artistic. She loves to draw "outside the lines" and push the norm!
This year I'm thrilled to announce that she is bringing her artistic talents to Soles of Love by decorating one of the arbors which will serve as a stunning photo op location. Also, look for her work on my hanging vintage frame which every year serves as another fun photo booth. Jeni is also providing sweet floral arrangements for all the tables. If you have a wedding or special event in the future you will want to take note. This blonde haired bohemian beauty will be at the party so make sure you introduce yourself and don't forget to meet your friends at the arbor!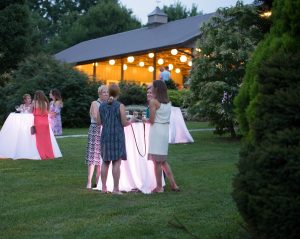 Wizer Productions made their Soles of Love debut last year by providing the beautiful table uplighting. It created such a touch of magic (as well as much needed light) that I asked them if they would consider us again this year. Fortunately, they said yes to helping us create our garden party mood. In addition to being really good people, Bill and April Izer provide DJ Services, Music, Sound, and Lighting for weddings, corporate events, and for any occasion that requires a WOW factor.  I'm so grateful for their donation again this year and can't wait to see how beautiful their contribution will make our gardens.
And speaking of lighting, welcome back Ron Layman of The King of Christmas. Ron is planning a spectacular light display for my buildings, fence line, and two very special trees. Ron runs his professional lighting business year round but Christmas brings his artistry to a whole new level. Working all over the state of Maryland, he is known for illuminating some of the area's finest and most prestigious homes so I'm especially grateful that he says yes every year to lighting Soles of Love. When the weather breaks, he and Roberto will be rolling in with miles and miles of soft white lights that makes every event simply breathtaking.  And if you don't follow his work on Facebook, you should. He's a talented artist and I'm a bit obsessed with some of the specialty projects he takes on. Thanks again Ron!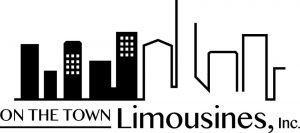 On the Town Limousines is new to Soles of Love this year and will be putting the VIP into our Sponsorships. With parking at a premium in the country, Len's crew will be escorting our Sponsors to the farm from a nearby parking lot in style. For them, no parking in the field, no standing in line at Registration. It will be pick up and delivery with an added touch of convenience. I've heard of Len for many years and excited to be able to experience his excellence service. On the Town Limousines provides 5-star rated pick up and transport to airports, parties, and any occasion when you just want to impress. Can't think of a group of ladies who deserve it more than the ones who make this event a reality.